HPMC raw material include Cotton puip, PO(Propylene oxide), MC(Methyl Chloride),NaOH,Acetic Acid,Toluene,Isopropanol,Tap water,Electricity,Steam. The price of MC has been rised a lot lately.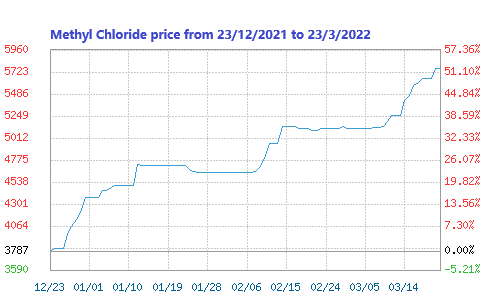 We can find the chart of Methyl Chloride price from 23/12/2021 to 23/3/2022.
The price of Methyl Chloride has been rised about 50%, it is crazed.
HPMC price is will rising. We know HPMC is always used in Construction building, Cosmetic and Personal Care, Food and Pharmacy, Ceramic etc.. The high price will influence everyone.
We have a little stock as below:
HPMC Pharmacy grade E5, E15.
HPMC Construction grade 20W, 15W, 400.
sales@chemixsc.com